Swift Digital system packages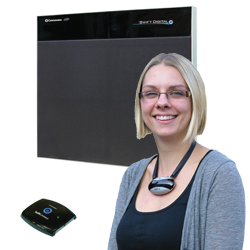 For simplicity, we offer the Swift Digital in a ready-made kit, which includes all the equipment and accessories required for a working system.
The teacher or lecturer needs to use a SwiftTX transmitter to pick up their voice. Don't forget, the Swift Digital is a two channel unit and can have two transmitters in use simultaneously: -
Swift Digital and SwiftTX pendant transmitter with SwiftConnect - Our Recommended Choice
Swift Digital and SwiftTX pendant transmitter - Kit F
The SwiftTX pendant transmitter is exceptionally light and easy to wear and has excellent sound pickup. We recommend including a SwiftConnect with your system as it allows easy wireless integration of a Swift Digital at the back of the classroom with your laptop and interactive whiteboard at the front!

The handheld transmitter (available as an addition to any Swift Digital package) is ideal as a second transmitter for group discussion or guest use

The Swift Digital is a two channel unit and can have two transmitters in use simultaneously - please see the 'Spares and Accessories' category to purchase additional transmitters for use with a kit. 
Free Trial for every UK school
We are so confident you will enjoy using the Swift Digital Classroom Soundfield system, we are offering every school in the UK a free trial!
At a convenient time for you, we will come to your school, set it up and show you how easy it is to use the SoundField system. It just takes around 15 minutes and all we need is a standard mains socket at the back of the classroom to plug it in.  At the end of the 3 - 4 week trial period, if you feel it isn't making a positive difference to the children's learning in the Classroom, we will collect it from you – simple!
To organise a free trial for your school, please email our Director Phil Boswell phil@connevans.com and leave the rest to us!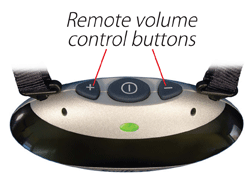 Remote Volume Control (RVC) of IR Swift+ units
Using a SwiftTX transmitter with a Swift Digital, you can adjust your Soundfield volume from anywhere in the classroom.
This innovative Connevans feature gives you the opportunity to remotely adjust your volume, up or down, by simply pressing the '+' or '-' buttons on the SwiftTX transmitter.
Once the volume is set on your Swift Digital Soundfield system, you should rarely need to adjust it, but if the class is more boisterous than usual, you can change your microphone volume level with the easy press of a button, without having to go to the Soundfield system unit.