Swift Digital speaker amplifier kit with the unique SwiftTX pendant microphone transmitter and the innovative SwiftConnect - bringing superb quality sound within financial reach of every classroom.
The Swift Digital is a groundbreaking use of technology to bring superb quality sound to every classroom. Natural high quality sound is vital in a classroom to ensure the best listening and learning environment for students.
The Swift Digital has a single hyper-wide dispersion flat panel speaker unit with NXT technology, to create an effective soundfield from a single speaker. It is easy to install and you can have up to two microphone transmitters with each system - a main one for the teacher (included) and a second one for student participation or a teaching assistant.

This Swift Digital kit includes a neck worn SwiftTX pendant microphone transmitter. The teacher's transmitter has two built in microphones and is supplied with a neck cord. It is exceptionally light and easy to wear with excellent sound pick-up and quality.
The SwiftConnect allows easy wireless connection of a Swift Digital at the back of the classroom to your laptop and interactive whiteboard at the front...and you can incorporate the whiteboard speakers to enhance the overall 'field of sound'. The SwiftConnect is plug-and-play and will even turn itself on automatically - you can't get simpler than that!

This is our recommended Swift Digital package, giving the ultimate in classroom soundfield.
Features:
Excellent speech clarity
Virtually no installation - can be hung on the wall in just 5 mins; as easy as hanging a picture
Stylish design - fits easily into your classroom
Simple to use - only 6 controls which rarely need adjusting
Remote Volume Control from a SwiftTX transmitter
Manufactured and designed in the UK - optimised for European language sounds 

SwiftConnect - allows you to wirelessly connect the Swift Digital, laptop & interactive whiteboard to provide a fully connected classroom.
SwiftConnect also includes facility to record a lesson on any voice recorder, if desired.
Free Trial for every school in the UK
We are so confident you will love using the Swift Digital Classroom Soundfield that we are offering every UK school a free trial for up to 4 weeks.
So you can enjoy the benefits of SoundField, we will come to your school, set the equipment up in your Classroom and show a teacher how easy it is to use it. This just takes around 15 minutes and all we need is a mains socket at the back of the classroom. Then, at the end of the trial period, if you do not think it is making a positive difference to the learning in the Classroom, we will collect everything – it's that simple!


To arrange your free trial, please just email our Director Phil Boswell phil@connevans.com and leave the rest to us! 
System package includes:
Swift Digital dual channel speaker amplifier unit

Swift Digital external universal mains power supply with UK plug (works in any country)
SwiftTX pendant microphone transmitter with 1 x AA battery (45IRTXPE2)
SwiftConnect unit with microUSB power supply (45SWCON)

Mains charger for pendant transmitter (45IRTXCHG2)

Flush wall mounting bracket, already fitted (MX129108)
Standard 3.5mm - 3.5mm 1.2m length connection lead which can be connected into any headphone socket for external sound sources eg. laptops, iPods etc. (MXA117A)

3 year warranty

Transmitter battery life: 8 hours approx. Transmitter charge time: 16-20 hours Transmitter requires 2 x AA rechargeable batteries (supplied)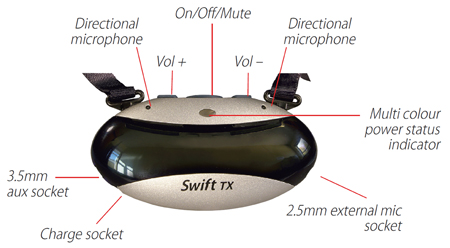 Remote Volume Control (RVC) of Swift Digital units
Using a SwiftTX transmitter with an Swift Digital you can adjust your Soundfield volume from anywhere in the classroom.
This innovative Connevans feature gives you the opportunity to remotely adjust your volume, up or down, by simply pressing the '+' or '-' buttons on the SwiftTX transmitter.

Once the volume is set on your Swift Digital Soundfield system, you should rarely need to adjust it, but if the class is more boisterous than usual, you can change your microphone volume level with the easy press of a button, without having to go to the Soundfield system unit.